We Help Our Clients To Sell More By Selling Themselves.
Our Approach is Through Thought Leadership, Best Practices And Education-Based:
At a Turning Point in your business/career? We help you Grow. Sell. Engage.
Do you need to engage prospects, clients, decision makers and centers of influence in new, dynamic ways to grow and sell more? We can help!
We get our clients in front of the people that can help them grow and sell more – so they take notice. We exploit our clients' own subject matter expertise, thought leadership and experiences to develop strategic content marketing and promotional opportunities and deliver it in compelling ways when and where the people who need to will embrace it.
Turningpoint Communications is a national strategic marketing, communications and sales training firm providing content marketing, communications and business development support, educational services, strategic events coordination and community engagement. Everything we do is thought leadership and best practices based and designed to help you engage, grow and sell more!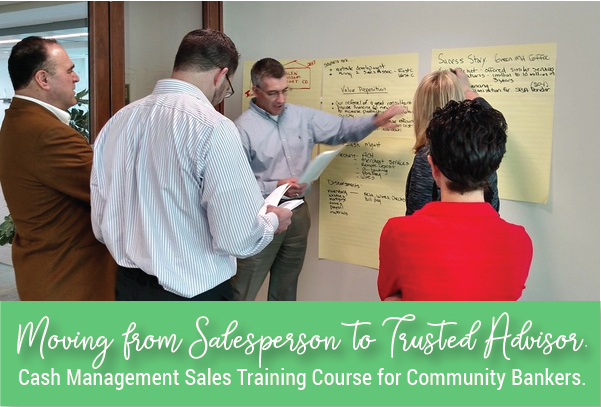 Register Now for your choice of date and location for a Treasury Management Sales Training Course
Would you benefit from treasury management sales training?
Our course, Moving from Salesperson to Trusted Advisor, brings treasury management sales people and their business partners on a fast-paced two full day journey toward trusted advisor status. You'll become a trusted advisor by actively listening, anticipating needs, providing education and using a consultative approach to clients. You'll work smarter, not harder, to identify and qualify prospects, establish relationships to sell more.
Upcoming Open Class Dates:
2018
Boston, MA:         March 8 – 9
Dallas, TX:           November 8 – 9
Register Now!
Get Tips & Tricks Delivered Right to Your Inbox.